A wonderful vet. Dr. Yasson has a real gift for prescribing homeopathic remedies. I trusted that I had put the lives of my cats in the hands of the best vet possible and as I look back I still feel the same way. She is calm, very knowledgeable, flexible regarding different healing approaches and gave me a feeling of security as I went through some very difficult times with 2 of my cats.
One of the most important things to me was that she was always available during crisis. I never felt alone in dealing with my dear pets illnesses. I recommend Dr. Yasson without reservation.
Ann Mary Coleman
---
We're really pleased that, thanks to you, Rudy was able to have so many good months since the cancer appeared. After a very impressive treatment visit with my own dog several years ago, my rescue group has since asked for Dr Yasson's amazing skills with at least 10 of our rescued Boston Terriers with a variety of disorders that standard veterinary care was unable to help. They range from stubborn allergies, a variety of cancers, infections, bronchial issues, GI, UTI, URI and so on. In each case she has brought relief and to many a complete recovery. We will continue to bring our Boston Terriers to Dr Yasson in whom we have the greatest respect and confidence. Thank you for all you do for our rescued pups!
Sheryl Trent, North East Boston Terrier Rescue
---
Dear Dr. Yasson,
We're really pleased that, thanks to you, Rudy was able to have so many good months since the cancer appeared.
Thank you so much for all of your help and guidance through this difficult period. We are extremely glad and grateful that Rudy was able to remain so happy and comfortable for so long given what was taking place in his body.
Very best wishes to you always,
Rachel & Ian
---
Tuxedo Willis
8yo, Boston Terrier
It was an absolute pleasure speaking with Dr. Yasson. I feel confident she is going to be able to help Tuxedo feel better!
Thank you for all of your help!
Corrie Willis
---
Louie Lamoreaux
American Short Hair Cat
Dr. Yasson is an amazing vet and human being! She totally opened my eyes as how to take care of my Louie kitty! Although he's past away this year wish I had found her years ago! The initial start up fee is expensive but as you follow her instructions it's worth it! The medications prescribed are far less expensive. She is very attentive to your pets needs and even took some frantic calls from me late at night! I know if I had went to her from the start of his life, he would have never come down with Hyperthyroid! Finding out that either the commercial foods and or the vaccinations I had allowed from the conventional vet brought it on blew me away! Not to mention how ridiculously expensive a vet visit or god forbid an emergency situation is!! She does work along side of a regular vet if needed. However, following her instructions will prevent most issues with your animal! When I'm ready for a new animal or two in my life she will be who I go to FIRST!!
– Rebecca Lamoreaux
---
Hina Davis
3 yr old, Samoyed-Jindo Cross
Amazing vet. I took my rescue dog Hina to 3 vets, including a dermatologist, and none could cure her extreme allergies. One visit with Michele Yasson and my Hina was cured. Just a wonderful, caring person and an outstanding vet.
– Shelley Davis
---
Tigger Jamison
12 year old, female, Domestic Short Hair Cat
Pittsburgh, Pa
12.13.2016
Aggressive Vaccine -Related FibroSarcoma Cancer.
Tigger has had 6 surgeries to remove aggressive tumors from August 2012
through August 2015. The cancer was getting stronger. Each time the
interval of regrowth between tumors (and surgeries) has been growing shorter
and shorter and the tumors were growing faster and faster, becoming very
large at an alarming rate! The surgeon was hesitant to do any more
surgeries. The end seemed inevitable. But, Tigger's owner wanted to "beat
this cancer once and for all," and found Dr. Yasson in August 2015.
Tigger was started on Dr Yasson's nutritional protocol and homeopathic
treatment plan. It was comprehensive and at the same time very simple and
easy. Since then Tigger has produced no new aggressive tumors! A whole
year without a surgery! The treatment has been so gentle she never even
knew she was being treated. Even her excessive thirst and snoring went
away! And her coat has a shine now. What a treat for Tigger.
From death sentence to a happy, healthy year! Amazing!
"Thank you Dr Yasson. I'm so glad I found you."
Sarah Muir re Mhairi
Dec 08
Mhairi is so full of beans & the tumor has definitely shrunk. My little miracle girl. I can never repay  you for bringing her back from certain death
Elizabeth Philippus
Jan 09
Some time ago, Dr. Yasson, you wrote made many contributions to the book, The Veterinarian's Guide to Natural Remedies for Cats.  My 14 year old cat has renal disease and I wanted to pass on to you how helpful your information has been to him.  This really has improved his appetite and I believe it is cleansing his blood, making him feel much, much better. I've never even met you but thought I would pass that on to you and to thank you for bringing life back into an otherwise unhappy cat!
Kandy + Byron Barone
Dr Yasson,
Thank you again for your kindness and wisdom.  I have recently included you in my prayers with God to continue to bless and guide you with your strength and love for your chosen calling to help others.  Thank you for your amazing help with Keneau.  We are so grateful to have met you.
Shannon Yonker
March, 2011
Thank You So much for your help. In our phone consultation Wednesday night I learned a lot! Since the call Dinky will no longer be eating "junk" food.  Thanks to you, now I know the difference!  I have put him on the grain free food, and he is already less itchy.  I can't believe it!  Now I know what will be the best for him. I learned so much from that call, I can't thank you enough.
Darrell Wilks, 11.2011 – Bella, Schipperke, IBS
First of all, I have to say, it's like a miracle cure!
Thank you so much, it's like a miracle cure.  Thank you very much.
Amy Katzenberg, 1.2012 – Jack Russell, Vaccinosis
You are the Dr. House of veterinary medicine.  I hit the jackpot with you!
Kelly Zaneto, 1.5.2012 – Cat, Kidney Disease
You are our miracle worker!
Tom Fitzpatrick, 1.19.12 – Cat, Paralysis
Cassius would have been dead long ago if it weren't for you.
Lanette Scaran, 2.23.12 – Cat, cancer
You're a miracle worker.  I have no doubt my Millie would have passed away years ago without you.
Luanne Principe, 6.21.12 – Rudy, Yorkie, Cushings + Bladder stones.
You gave us a year and a half that we would not have had without you!  Thank you!
Kelly McCartney, 6.2012 – Jalla, Boxer x Rottie, Osteosarcoma.
I can't thank you enough for the care you've given Jalla over the past eight months.  I definitely believe your treatment has extended our time together and I will be forever grateful to you for that.
Mike Mitchell, 05.13.13 – Cat, IBS
"Museum Quality Poops!" This is after 2 weeks of treatment – after many months of severe diarrhea, anorexia, lethargy, wt loss, and unsuccessful conventional treatment, Wilbur (5yo cat) is now having normal stool just 2 wks after starting my holistic treatment plan with healthy, natural diet, supplements and homeopathy. He is already "happier, brighter, more playful, more affectionate!" I know stools are one of the best parameters of health. Wilbur's entire life will be better from this point on!
It doesn't get any better than this. I love what you do!
Renee Bruce, 10.30.14 – Ricky.  Jack Russell, Aggression, weakness
Hi, wanted to give you guys a report on how Ricky is doing. The first day after treatment he was already better. He seemed a bit more energetic. Had a bit more "guff" to him. The next day better still. He started to venture out onto the wooden floor with a bit of coaxing.
He has gotten better and stronger and more his self every day. By the fourth day of treatment he gave me a play bow and proceeded to toss and throw his Binky toy around the room. On last Thursday he found that with encouragement he could jump up the two front steps of the house if he walked to the side where they are not as steep. (I've been carrying him up and down the steps in his carrier for weeks because he won't jump up the stairs). On Saturday, in a fit of emotion (and for the first time in four weeks) Ricky jumped onto the couch, onto my lap, kissed me on the nose and then proceeded to pee a bit in excitement and jumped back off again. He was very proud of himself!
He now runs confidently across the wooden floor. He allowed me to pick him up and carry him through the woods yesterday without any talk back -(the first time he went human riding in four weeks). And this morning – for the first time since his "injury?" he ran up the front steps without any coaxing.
We are very excited about his recovery – I almost have my old Ricky back. And for this I am really thankful.  Not that I'm looking for a miracle but so far that is what this cure is –
Thank You!
Renee Bruce
11.13.14 –  "You are a genius!  Geoffrey's eye is all better!  Thanks for your inestimable help!"
– Larry Barbieri
11.14.14  –
Golden Ret.  Cushings
Thank you for all your knowledge.  Brinkley is doing great at 11 (years old) which is great for a Golden.  We are so happy."  –  Tim Foster
12.05.14
Talullah Chambliss (Tibetan Mastiff Rescue)
Just wanted to update you… She seems much
more content and less anxious.   She isn't peeing inside, and she's very happy.  She seems much more calm and at ease and I'm thrilled that I don't have to clean up pee every day.
Thank you!   Rebecca Chambliss
04.10.15
Lab, cancer
Thank you for all did for Bailey.  Will be in touch in future & will refer pet owners to you!
Cristin Wheat
07.31.07
Tess, cat, hyperthyroidism
Thank you for your expertize in helping me make the right decisions concerning Flower's medical needs.  Flower has never looked better!  It's all been for the good.  Thank you again for your concern and knowledge.
Vivian Epstein
05.28.15
Bubba, lab, cancer
"You are amazing.  I'm so glad I found you."   Stephanie Baker
12.03.15
Genny Coleman, cat, chronic sinusitis
"  Genny is doing very well!  She had a miraculous response within the first two weeks!  I feel like I have a normal cat in my house!!  She is breathing well and sleeping well again.  Magic!!  You created a monster!!  At 10 yrs old she's mischievious, like a kitten again!  I never thought I'd see her like this again!  This is freedom for me.  Nothing in my life is good when she's not good.  I have my cat and life back.  Thank you"
Ann Mary Coleman
Mia Jacoby-Twigg
January 15, 2014 ·
Tucker, mini dachshund, seizures and cancer.
Five years ago today, our mini-dachshund Tucker had 4 seizures within a 24 hour period of time. We took him to Oradell Animal Hospital where he was diagnosed with an inoperable brain tumor. We were given all sorts of possibilities as to how to treat his brain tumor – cyber knife, radiation, steroids. We decided we would not put him through that but allow him to live whatever time he had left as a happy little doggie. His neurologist told us if we didn't do anything, he would have 3-5 months to live. We were devastated, but knew it would be the best for him and for us.
We had a few years earlier met a Holistic Vet, Dr. Michele Yasson and we had become friends. We thought we'd give Michele a call and see if she could offer us any alternatives. Lo and behold, she put him on a few things and here we are today, FIVE years later and I swear his brain tumor is gone as he has not had any seizures since that day and has shown no symptoms of anything wrong with him since being treated by Michele. To say we are grateful doesn't even begin to tell how truly blessed we have been to have these extra five years with our little tiny Tucker-man. I am grateful for every single day with him and truly grateful for Michele and her treatments.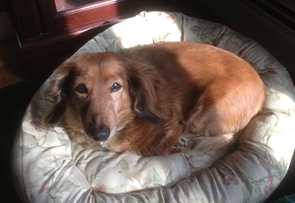 I brought Hina, my rescue from Korea to HolVet last week. They had treated a prior dog of mine, Flurry. Hina has a lot of health issues after having spent over a year in a very bad hoarding situation in Korea. Michelle was amazing with her and took time to ask the right questions and examine her thoroughly. I feel that Hina's problems are being addressed and I now have hope for a complete recovery. Thank you so much for how sensitive and gentle you were with Hina! I look forward to our next visit.
– Shelley D