Pet Supplements
Nine out of ten cats and dogs get suboptimal nutrition.  I created FirstScript™ multivitamin to improve health in dogs and cats.  They are pet nutritional supplements that support health and wellness.  They come in a delicious, loose powder form so you can pay for active ingredients and not for tablet binders or encapsulation!
I formulated FirstScript™  because I couldn't find a dog or cat multivitamin with more than trace amounts of active ingredients that actually made a visable difference.  I used my holistic veterinary experience and my years as a pet lover and keen observer to find the correct nutritional formula that was easy to use.
Things I've seen when my patients use FirstScript™ multivitamin:
Kidney Failure and Cancer patients start eating and gain weight again (it is a part of every cancer treatment).
Diabetic patients' blood sugar decrease by as much as 30-40%.
Hospice patients find the strength to get out of bed.
Less severely ill pets become strong, energetic, and develop beautiful coats.
Pets become less irritable and start playing again, or become more affectionate.
If you're interested in a trial size of one of our VetScripts™ pet vitamins call us at the office, 845.338.3300.  We take Visa and Mastercard and ship anywhere in the U.S.
Online Store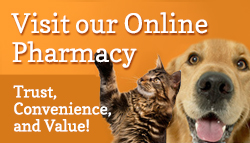 Office Hours
| Day | Morning | Afternoon |
| --- | --- | --- |
| Monday | 9 – 12 | 1 – 5 |
| Tuesday | 9 – 12 | 1 – 5 |
| Wednesday | 9 – 12 | 1 – 5 |
| Thursday | emerg only | emerg only |
| Friday | emerg only | emerg only |
| Saturday | emerg only | emerg only |
| Sunday | emerg only | emerg only |
Meet the Doctor

Dr. Yasson has
been featured in various media – numerous books, expos and conferences, newspaper and magazine stories, radio and television programs.
Using a holistic approach, she has had remarkable success treating cancer, diabetes, behavioral problems, and many other chronic disease issues, mostly
considered incurable.